For most conventional lighting fixtures the Intensity level of conventional lighting is controlled by dimming the lamp. To do this we need a theatre dimmer and a control desk.
Modern dimmers in Australia usually have 12 channels with each channel capable of controlling up to 2400 Watts. The dimmer varies the output voltage from zero to maximum and is controlled by a DMX512 control signal for modern dimmers or an analogue control volage per channel for older dimmers.
This 12 channel dimmer is a Jands Roadpak analogue model and has a canon socket on the front to connect it to the lighting desk. A seperate control wire is needed for each channel plus a common wire. There may also be two wires to supply voltage to the desk electronics. The dimmer has a three phase 5 pin plug. Early dimmers have 32 Amps, modern dimmers have 40 Amp plugs. There is a 3 pin socket and a fuse for each channel on the front of the dimmer.This dimmer also has a test facility to test any of the 12 channels.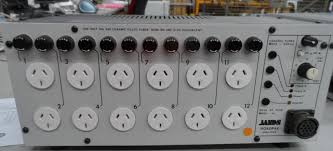 This Jands Roadpak Digital Dimmer  uses the DMX512A digital multiplexed signal to control the channel output levels. This allows the use of three wires to control from 1 to 512 channels. The switches on the front panel set the start address of the first dimmer channel and it uses 12 consecutive channels including the start address to control the 12 channel levels. There is a 3 pin socket and a fuse for each channel on the front of the dimmer. This dimmer also has a test facility to test any of the 12 channels. RoadpackTech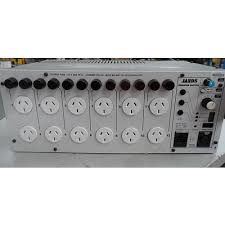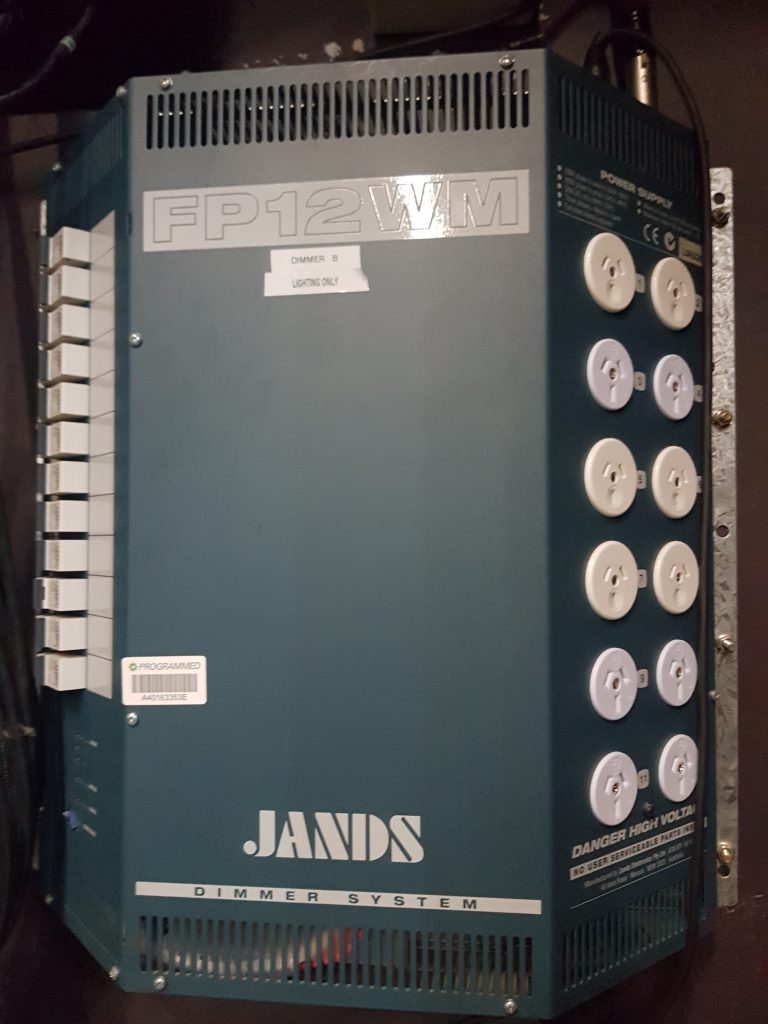 This Jands HPC dimmer has DMX512A control. The fuses have been replaced with circuit breakers to make it easier to reset a channel during a show. Because of the space the circuit breakers take up, the 12 output sockets have been moved to the rear of the dimmer. This makes it harder to access the sockets in some small theatres as you need to readily access the front and back of the dimmer at all times. This model dimmer also has air gap outputs which provide a hard switch for supplying power to modern lighting. HPC_User_Manual_V2.0c (1)

The selection of a lighting desk for school theatres and community theatres is influenced by a preference for a lighting desk that is easy to use, as most inexperienced users expect to just push a fader up for a light to come on, with additional features for experienced users. This has evolved into dual preset desks with wide mode, group faders and theatre stacks. Replacement desks should have these features plus capabilit to control LED fixtures and moving head fixtures. A touch screen, external monitor, encoder wheels and colour pickers should be necessities.
The Jands ESPII is an example of a well designed lighting desk or consolle. The top two rows of faders can be two 24 channel presets to allow two seperate lighting states to be set up and cross faded between. Or it can operate in wide mode, where the top 24 faders are channels 1 to 24 and the second row of faders are channels 25 to 48. The bottom row of faders are Scene Masters which can have scenes or chases recorded onto them. The provision of Scene or Group Masters as other manufacturers call them saves the operator a lot of time and button pushing by not having to go into wide mode, record a scene, go into scnene mode, play a scene etc. ESP_II_Operating_Manual
Suggested replacement include
Zero88 FLX S 48 for PAT
Zero88 FLX S 24 for Media
Chamsys QuickQ30
ETC Coloursource 40
See Selection of a Modern Lighting Control System page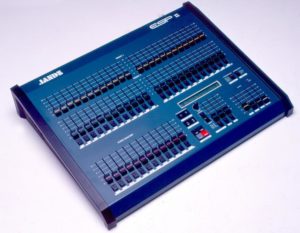 The Garrick has a Maxim XL 48/96 lighting desk, similar to the one shown but without the PatPad control in the lower right hand section of the desk and without the visualiser, which is the left hand monitor.
The desk can be used in the two preset 48 channel mode or the 96 channel wide mode, or 48 channels for the top preset row with 48 scenes for the middle row of faders. The bottom row of faders are always avaulable as Group faders.  maXim+MP-XXLP+v3.0+Operators+Manual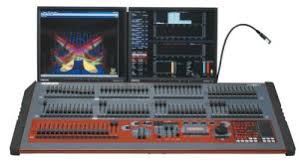 The Jands Stage CL was released in 2012 and is designed for LED lighting control. Initially it could only control 12 channels of LED fixtures with Hue and Saturation rotary controls, or conventional dimmer channels but a software upgrade allows two pages of faders so it can now control 24 LED's and 4 rotary controls or 24 conventional dimmers. StageCL_1-3_User_Guide
It is an entry level desk so if you want more features you buy the next level desk.