ElectroDroid – free and paid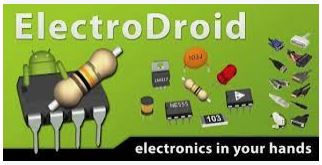 Lighting Handbook $4.95
Description: Lighting Handbook is a valuable tool for technicians in theater, corporate, and events fields, displaying information on nearly 900 moving lights, dimmers, conventional fixtures, and effects. When connected to the Internet, the manual is available for immediate viewing or can be stored offline within your mobile or via a favorite PDF Viewer. If your device is connected to the internet, the manual will then be available for viewing within the app. You can also store manuals for offline viewing either within Lighting Handbook or in your favorite PDF viewing app. Also includes Pinout diagrams for the most popular data and power connections, a Lamp Guide, library of manufacturers, and more
Moiré Gobo Library
Description: The Moiré Gobo Library is a UK app that's still valuable across the pond, and which lets lighting production personnel browse, search, and experiment with more than 3,600 different A-size gobos from a rich assortment of manufacturers.
ShowTool LD $5.49
Description: A comprehensive suite of lighting design and electrics utilities for theater and film, including Beam Calc, Gel Cuts, DIPS Calc, Power Calc, and DMX Calc. Version 2.3.1, the latest, also offers several new features and improvements.
Lux Meter by My Mobile Tools Co
Ever notice that you never have a light meter when you want one?  What if you had one on your phone? Lux Meter is a simple light meter for measuring illuminances (lux, fc) by using the light sensor of your android device. Best of all, it is free.  Paid version removes the ads.
Barbizon's Electrician's Handbook
Barbizon Lighting took the flipbook and made it digital. Every page, formula, gel, and lamp reference you'd find in the printed edition is in the app. It's just a quick search to find whatever you are looking for including: references for electrical terms; wire and cable, lighting fixtures, lamps, color, patterns, pipe, knots, etc.
Android: https://play.google.com/store/apps/details?id=air.com.barbizon.mobile.v2.release&hl=en
iOS: https://itunes.apple.com/us/app/barbizon-electricians-handbook/id1049089873?mt=8
Stagehand
Stagehand combines the Roscolux, GAM, Lee and Apollo swatch books. Gels are viewable by their swatch book, or all together sorted by hue, letting you find the right color regardless of manufacturer. Each gel contains the manufacturer information including transmission and description as well as samples of neighboring colors.  searchable not only by its name, number, and description, but also by color with the built-in color search which allows you to select via color wheel to see the closest matches available to the selected color. There is also a "share" button to send a color and its name to a colleague or the photo library.
Stagehand is provided as a free reference for professionals and amateurs alike and has been downloaded to over 20,000 devices since it launched.
iOS: https://itunes.apple.com/us/app/stagehand/id493887739?mt=8
The Gel Swatch Library by Crossroads Motorsport, LLC., lets lighting production personnel browse, search, and compare more than 1,600 gel color filters made by the most popular manufacturers:
– Apollo
– GAM
– Lee
– Rosco
iPhone and iPad
BOM Weather
Essential for outdoor shows, Dew Point indicator for Ballet.
Barbizon Lighting Handbook iOS and Android
Barbizon Lighting's extremely popular and impossible-to-keep-in-stock-to-meet-demand Electrician's Handbook has been updated and is now available electronically as an updated app in Apple's App Store and on Google Play for Android users! 
This updated version includes:
Handbook Indexed Navigation!
References for Electrical Terms, Wire and Cable, Lighting Fixtures, Lamps, Color, Patterns, Pipe, Knots, and More…
Zoom and Pan of Handbook pages
Handy Updated tools and lamp lookups (including data projectors)
LDTools APK
A tool set for lighting technicians.
Features:
-Calculate numeric DMX address from DIP switch configuration.
-Calculate DIP switch configuration from numeric DMX address.
-Calculate universe number from DMX addresses over 512.
-Calculate ArtNet universe (subnet:universe) from DMX addresses over 512.
-Generate DMX Patch chart containing fixture id (of same type), DMX address and DIP configuration.
-Saves last generated patch chart.
-Calculate Power, Amps or Voltage in simple single-phase systems.
-Calculate quick approximate 3-phase total Wattage & Amperage (for use with single-phase systems
-Calculate beam size, distance & angle.
Will be adding more tools in future updates! This is my first android app.
Lee Swatch – lighting filters
This is the official LEE Filters app with our full range of lighting filters and gels on one screen. Features an innovative colour picker and all the information lighting designers need.
Slide through the colours for inspiration, then tap to add to your palette. Review detailed information about each colour, including spectral charts. Professionally designed palettes to get you started, which includes Mood Boards in the folder icon, top left, plus the tools you need day-to-day
Not as useful as having a pdf copy of The Art Of Light http://www.lightplus8.cz/kestazeni/LEE.pdf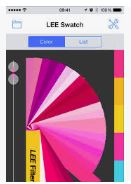 The MyETC: Photometrics app helps you estimate how an ETC luminaire will perform on stage by providing dynamic photometric data.

MyETC: Photometrics pulls photometry from across a fixture product line and combines it into an intuitive app for all your design and fixture comparison needs.

Designers, specifiers, and lighting enthusiasts can easily configure and display customized photometrics for each fixture in any color,
iOS and Android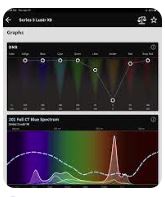 ZerOS Monitor iOS and Android
You must be running ZerOS 7.9.4 or later on your console for this app to work. For more information, or to update your console, please visit zero88.com/software/zeros
ZerOS Monitor connects to any Zero 88 lighting console running ZerOS*, and emulates an additional external touchscreen monitor, but wirelessly through your iOS device.